originally posted 11/12/2019
One of the best things about being a mom is having my daughter help me bake and craft. I love that she's always taking interest in what I'm doing and as a result she becomes a little more creative every time we start a new project. Each holiday, I try to make themed kid-friendly treats for her friends at daycare. Sometimes we make treats because I want her to learn that it doesn't have to be a special occasion to show kindness to others. For the past week we have been going through all of our Thanksgiving ideas, trying to figure out what to do this year.
Last year we made a mix of Cheerios, Gold Fish and Mini Marshmallows. We put the mix inside ice cream cones and they made very cute cornucopias for her daycare friends.
2. We also made these cute turkey cookies out of chocolate covered Graham Cracker, Smarties and Candy Corn. We used only the white Smarties for the eyes and added a dot of black icing.
3. For the teachers we wrapped some banana bread, pumpkin bread and apple caramel bread in Fall themed ribbon and attached a printable you can find here.
We found so many other crafts and treats that are easy enough for you and your little helpers to make.
4. These little turkey boxes are a great alternative to treats. I just love these by Love The Day 
5. These DIY Party Favors by I Heart Crafty Things are perfect for Thanksgiving guests.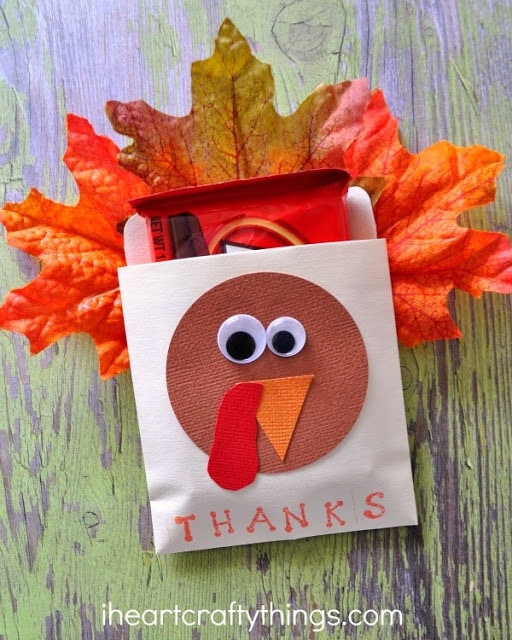 6.Turkey Pudding Cups and Turkey Jello Cups by The Keeper of  the Cheerios are a great idea for daycare.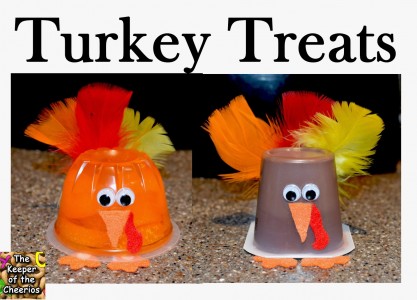 7. Who wouldn't like a Turkey Pretzel? Miss Candyquik has a great tutorial.
8. If you want to completely theme out your Thanksgiving celebration, Amanda's Parties To Go has these printables you can download for free!
9. This is such a creative way to remind our children what to be thankful for. Have them help you put together this Thanksgiving Art by Yesterday on Tuesday 
So how about you? What are some of your favorite Thanksgiving Crafts and Treats this year?