I don't know about you, but I'm over summer. The dashboard temperature gauge in my car hit 112 the other day. It got so hot that it melted the sunglasses I left in the cup holder. If you ask me, this scorching weather is all a bunch of hocus pocus! The kids are back in school. Starbucks is selling its pumpkin spice latte. As far as this Florida girl is concerned, spooky season should already be here!
Did I say Hocus Pocus? Yes, this year's streaming TV lineup is everything we 80s and 90s babies could dream of! Grab your bright orange plastic pumpkins and put on your homemade costumes (thanks, mom!), we are diving into all things fall TV, spooky season style!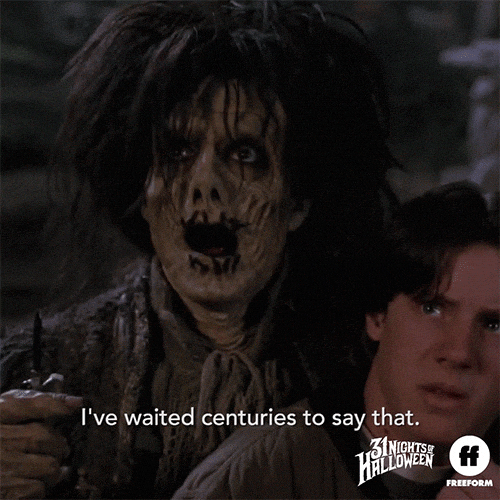 The Sanderson Sisters are back on Disney+ with an all new Hocus Pocus 2, 90s alt-rock fans can't wait for the creepfest that'll be Rob Zombie's take on the classic Munsters on Netflix, and Tim Burton will surely give us a fantastical version of The Addam's Family with Netflix's Wednesday.
What Families Need To Know
Hocus Pocus 2
Hocus Pocus 2 is going to be a fun, family film. It stars the original cast of Bette Midler, Sarah Jessica Parker, and Kathy Najimy as the frightfully entertaining Sanderson Sisters. According to Disney, the plot picks up in modern-day Salem where three young women accidentally bring the wicked witches back to life. We'll have to see what kind of trouble Winifred, Sarah, and Mary create this time.
I showed the trailer to my 7-year-old and 4-year-old. They both agree it looks "a little bit scary," but still want to watch it. In a press release, director Anne Fletcher said, "this is a movie for everyone, from the fans who grew up with the first film to the next generation of viewers, and I can't wait to get started."
Hocus Pocus 2 debuts September 30th on Disney+, a spooky season classic!
Munsters
I'm excited about this film mostly because I don't know what to expect from it. Rob Zombie does horror incredibly well. It'll be interesting to see his take on the 1960's classic family show. Zombie is best known for ugly, gory, scary horror (House of 1000 Corpses, Halloween II, Devil's Rejects). For this reason alone, I would recommend previewing the film before letting the kids watch it. It did receive a PG rating so it should be safe.
I showed the trailer to my kids. They both want to see it. They think it looks "silly." I agree, but I hope that it won't be too cheesy and will still hold some of that Rob Zombie creep factor.
Munsters debuts on DVD & Netflix on September 27th, another great spooky season movie for kids!
Wednesday
Tim Burton was the king of dark whimsey in the late 80s/ early 90s. That's when he directed Edward Scissorhands, Nightmare Before Christmas, and Beetlejuice. I'm expecting that same kind of dark character development in Wednesday, and I'm pretty sure we're going to get it. The 2-minute trailer for the new Netflix series is loaded with sarcasm, dark humor, and snarky dialogue. Netflix calls the genre "comedy horror," which sounds super exciting!
It is not yet rated, but the buzz online is that it will be family-friendly. I showed the trailer to my kids. My 7-year-old is pumped about this one. He says, "it looks really good. Creepy, but funny."
Season 1 of Wednesday debuts on Netflix "Fall 2022," with no official release date. We hope it'll arrive in time for spooky season!
Your Family Favorites Spooky Season
 Streaming Guide
Disney+
Hocus Pocus 2 (2022) – September 30
Hocus Pocus (1993)
The Haunted Mansion (2003)
Monsters, Inc (2001)
Maleficent (2014)
Descendants & Descendants 2 (2015), (2017)
Coco (2017)
Frankenweenie (2012)
Edward Scissorhands (1990)
Nightmare Before Christmas (1993)
The Simpsons Treehouse of Horror
Halloweentown (1998)
Under Wraps (2021)
Mom's Got a Date with a Vampire (2000)
Mr. Boogedy (1986)
Netflix
Munsters (2022) – September 27
Wednesday (2022) – Fall, no release date
A Tale Dark & Grimm (series – 2021)
MonsterHouse (2016)
Lemony Snicket's A Series of Unfortunate Events (series – 2017)
Shrek's Swamp Stories (2008)
Hubie Halloween (2020)
A Babysitter's Guide to Monster Hunting (2020)
Spookley The Square Pumpkin (2004)
Gnome Alone (2018)
Super Monsters (series – 2017)
Goosebumps (series – 1995)
Are You Afraid of the Dark? (series)
The Good Witch (series – 2015)
The Spooky Tale of Captain Underpants Hack-a-ween (2019)
Scaredy Cats (2021)
Hulu
The Addams Family (2019)
Ghostbusters (1984)
Ghostbusters II (1989)
Jumanji (1995)
Double Double, Toil and Trouble (1993)
Hotel Translyvania (2012)
Madacascar: A Little Wild: A Fang-Tastic Halloween (2020)
Little Monsters (1989)
Sabrina The Teenage Witch (series- 1996)
Buffy the Vampire Slayer (series – 1997)
Matilda (1996)
Other Streaming Platforms
Nanny McPhee (HBO Max)
Daphne & Velma (HBO Max)
Tim Burton's Corpse Bride (HBO Max)
Jurassic Park (HBO Max)
Scooby-Doo! The Mystery Begins (HBO Max)
Harry Potter (HBO Max)
Corpse Bride (Amazon Prime)
Casper (Amazon Prime)

What will you be watching this season??
Tell us in the comments!