Giving and receiving gifts is a beautiful and exciting part of life, especially for kids. It can be tricky in a world of consumerism and targeted marketing to find a healthy balance of what is enough vs. what is too much. A study from the University of California finds that the U.S. has 3% of the world's children and consumes 40% of the world's toys. In this post, we're going to explore a step-by-step guide on how to throw a present-free birthday party while maximizing fun. This is not only better for the planet and reduces clutter in our homes but and puts the birthday experience above all else. At the end of the day, our kids aren't going to remember any of the presents. What they will remember is who was by their side celebrating and what they did that day.
It's important to remember the root of birthdays and how we want our kids to feel: loved, celebrated, and joyful. How can we achieve these feelings without overloading them with presents and plastic toys? Companies do their best to tie our love with "stuff" while researchers agree that kids, especially toddlers, engage in more creative and healthy play when they aren't surrounded by toys.
As a fairly new environmentalist and advocate for the planet, going against the grain and living life differently than many of my peers, it's easy to feel worried about being judged or seeming like a bit of a weirdo. But I'm here to remind you that this is normal and to praise yourself for identifying a problem and trying to do things differently. 
Let's get to the good stuff – our step-by-step guide to having a present-free birthday party! 
Step one: write it on the invitation. "Please no gifts, we're just so excited to celebrate with you." There are a million great ways to convey this message with a simple google search. If you know it will be difficult for your guests to come empty handed, you can ask them to contribute to the party in some other way. For example, bringing an appetizer, dessert, or paint for the art project you've planned for the kids. Present-free birthday parties are certainly a newer concept so this is a great way to allow guests to contribute something that will be useful for the special day and not end up on a shelf collecting dust.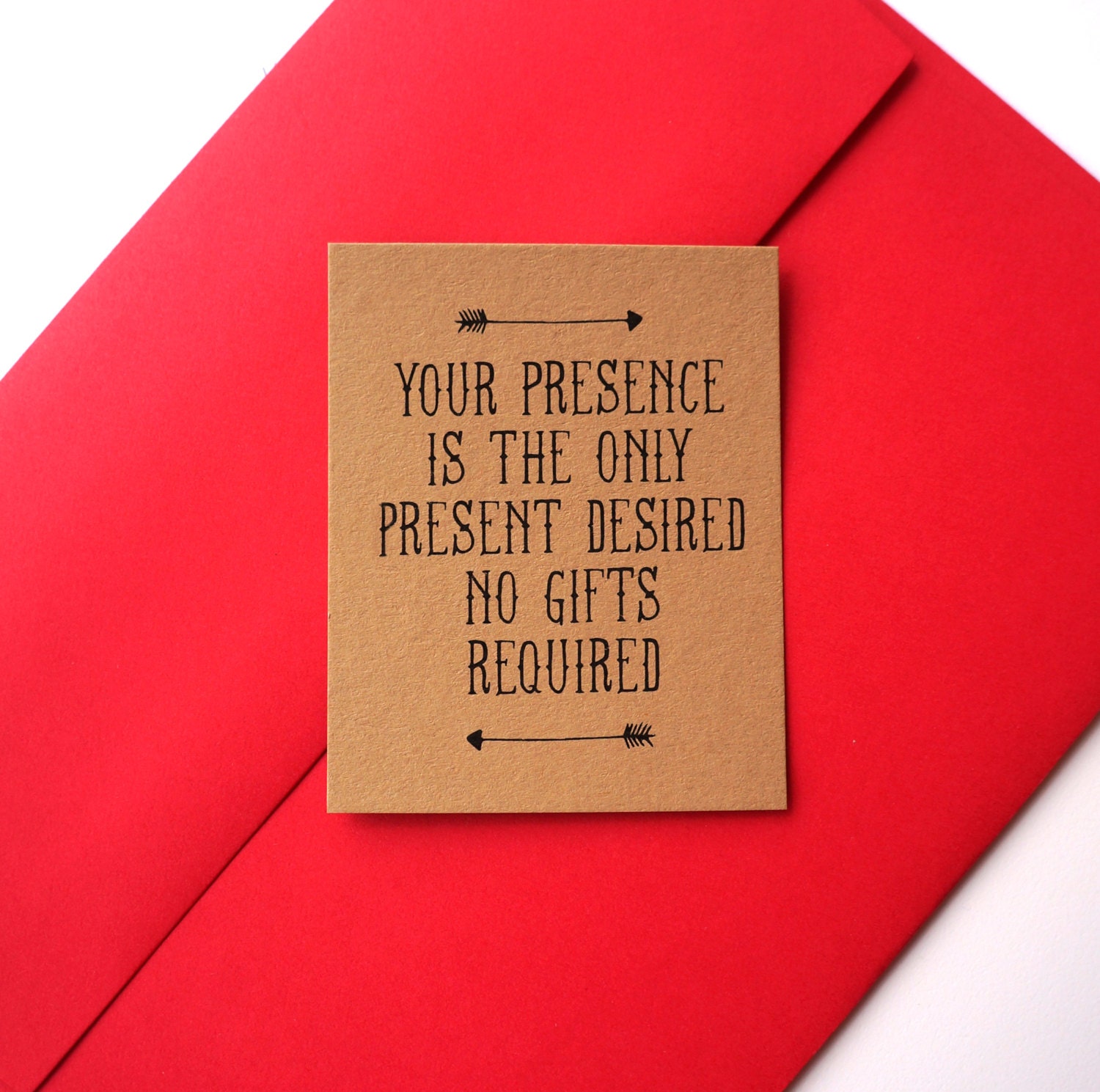 An idea found on the Sustainable Minimalist podcast was having each guest write a card or email instead of a bringing a present. This becomes a fun writing activity for your guests and imagine how special the birthday kid will feel receiving all these loving messages.
Step two: goodie bags. The intention behind goodie bags is to have kids leave the party with a memento of the amazing day. I'm all for this but we can do better than a plastic bag full of little trinkets that will occupy your child for a few minutes and ultimately end up in a landfill. Let's get creative and replace goodie bags with something intentional with a longer lifecycle:
Take home arts and crafts project from the party
Instead of gifts, ask guests to bring a gently-used, wrapped children's book. On their way out from the party, have the kids pick out a wrapped gift from the basket. Everyone leaves with a gift including the birthday kid. Pro tip: Every parent is balancing an overwhelming amount work and some will forget this task — that's okay. Make sure you have a couple of extra wrapped books in case this happens.

 

Cupcake, dessert, or something edible
School supplies
Step three: decorations. This is a tough one because most birthday party decorations are intended for single use and discarded after the party. 
Balloons – There are two types of balloon options, latex and mylar. Latex balloons are single use and make the dogs go crazy. Beyond that, wildlife is often attracted to these types of materials because of their bright colors. Mylar (or foil) balloons are intended to be reusable and more biodegradable. Not a great alternative but they will last several years with proper care. However, let me express an unpopular opinion – you don't need balloons at your party. As an event planner, I'll tell you that it is possible to throw a gorgeous event without balloons.

 

Party – These can last several years and be reused, especially when you fix the little strings that break.

 

Confetti – This actually doesn't even break down because it's already sold as a micro plastic. For my events, I make confetti using a hole puncher and leaves. There are also biodegradable confetti options but if you can go without, even better.
Decorate with old photos of your kids or fun moments throughout the years.

 

Cakes can be the focal point of a party and enjoyed by all. If you're looking for a place to splurge at your present-free birthday party, cakes are always a good idea.

 
The essence of your child's birthday party is to be surrounded by people that love them and to celebrate another year around the sun. You can achieve this without presents, balloons, confetti, and other things that are harmful to the planet. 
Present-free birthday party doesn't mean that your child won't receive gifts. In our family, my daughter will receive gifts from her parents, grandparents, and friends. It's taken a lot of trial and error but here's what works best for us as a sustainably-conscious family. 
Throughout the year, I'll add to a note in my phone all of the things that my daughter has expressed interest in. It's a helpful exercise because it makes gift giving intentional rather than feeling the pressure to give because it's a part of the birthday tradition. For example, whenever I pull my make up bag out, my daughter's eyes light up and she asks if she can use make up too. It's become such a meaningful experience for the two of us. She has never asked for her own make up but this year, we're gifting her an eye shadow palette (cruelty free of course because that's the first thing she will ask – proud parent moment). Without adding "eye shadow palette" to my gift list, I probably would have forgotten or overlooked how meaningful this gift would be for her. Plus, you can also share this list with anyone who's planning on gifting your child something. 
Have you thrown a present-free birthday party? Tell us about it in the comments!